NuVox's network was built from the ground up to provide redundant, reliable, and feature-rich IP voice and data services. Starting at the most basic layer, the backbone, NuVox maintains its own private OC-48 (2.5Gbps) core using SONET and Resilient Packet Ring (RPR) technology. RPR allows the core to isolate outages and automatically route around them in less than 50 milliseconds.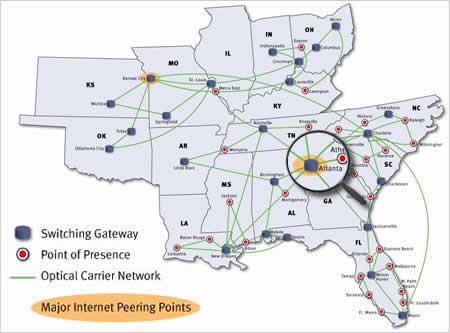 Resilient Packet Ring (RPR)
Connecting to the core, NuVox runs a Cisco Powered Network consisting of ONS 15454s, 12000 Series Gigabit Switch Routers, and Cisco 7600 series edge routers. At each connection point NuVox has engineered redundancy by ensuring that no single point of failure exists. All hardware is fully redundant and monitored by a 24-hour, 7-day a week Network Operations Center (NOC).
What does it take to be a Cisco Powered Network?

On top of the core network, NuVox uses an IP/MPLS-based architecture to provide voice, Internet, and private data services. NuVox leverages the abilities of MPLS to provide any-to-any connectivity, end-to-end Quality of Service (QoS), and inherent security to provide a varied set of features at bandwidths ranging from T1 (1.544Mbps) to Gigabit Ethernet (1000Mbps).

In order to bring QoS as close to the customer as possible, NuVox has over 280 Cisco 7200 class routers installed in colocations throughout the network. These routers provide PPP and MLPPP bonded T1s or Ethernet services directly to the customer. On site, NuVox uses the Cisco IAD2430 series router to provide Voice over IP (VoIP), Internet, and MPLS-enabled services such as Layer 3 VPNs and managed security.
More information on MPLS
All of these elements are monitored 24x7 by a Network Operations Center using IBM NetCool for alarming, Arbor Networks' Peakflow SP for traffic anomaly detection (such as worms, Denials of Service (DoS), and other possible threats), and by Lucent VitalNet for device health, circuit capacity, and Service Level Agreement (SLA) reporting.

For traffic destined for the public Internet, NuVox maintains Gigabit Ethernet connectivity distributed throughout the network. NuVox's routing architecture is designed to ensure packets are delivered to and from the Internet in the quickest manner possible.